Basia Bulat and the Poche Orchestra Live at Zeke's Gallery last night
Howdy!
Click Here to Listen
! [
28:07 minutes, 25.7 MB
]
Last night, about 40 or so folk showed up here to listen to the wonderful vocalizations of Ms. Basia Bulat. She was joined on stage by Simon Arsenault (guitar + vocals "
heavenly triple harmonies
"
*
), Trent Leipert (piano), Jenna Wakani (background vocals), Jay Young (guitar) and Bobby Bulat (percussion).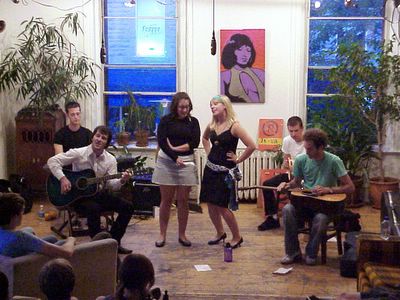 The only thing wrong was me! I screwed up in the recording and as a consequence there are some glitches that I unfortunately can't get rid of. I've edited down the show to get rid of as many glitches as I heard. However, this should not prevent you from downloading the show, as it was quite impressive. Hope that you enjoy it as much as I did.
*
Suggested by Shawn Petsche and duly noted